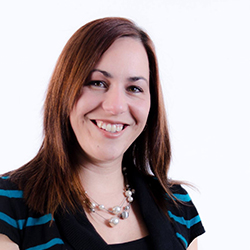 Patricia Gougeon - Director
Patricia is a Communication Specialist who has owned her own consulting firm for the last five years. Helping others is what she does best. Her endless energy, determination and communication skills help many non-profit organizations reach their goals.
Diagnosed 19 years ago with Cutaneous Mastocytosis, Patricia has never stopped living her life as normal as possible. Five years ago, the disease reached another level. Patricia advocated strongly for testing and was diagnosed with Systemic Mastocytosis, leading to new medications which have helped her become more stable. Since then, she has been living perfectly well. This perspective of challenge, results and hope is what she hopes to highlight through her involvement with MSC.
Originally from Laval, she now enjoys calling Gatineau, Quebec home. When she is not working or volunteering at MSC, she enjoys life with her husband and their two young boys. They like to travel, watch movies, share a good meal and discover new activities to do as a family.
If you have questions or would like to start a conversation, please reach out by email to patricia@mastocytosis.ca.