In preparation for our upcoming Awareness Day, we asked patients to describe what it's like living with Mast Cell Disease. These are their heartfelt descriptions of living with this complicated, unpredictable disease.
---
From B. Johnson - I find it difficult put into words what it's like living with Mast Cell disease, particularly the certainty around the diagnosis. For me, this photo speaks a thousand words about my experience with Mast Cell Disease.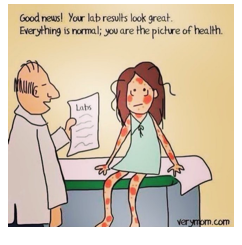 My journey has been a whirlwind of emotions. I have not only received a diagnosis after battling the medical system, but I have also had that very same diagnosis questioned in a flash of an eye by doctors that have never heard the term "Mast Cell Disease" before. The diagnosis I fought so hard for, to understand, to learn, to even accept is now gone. So where does that leave me?
Some may think that leaves me with discouragement and hopelessness...but I am here to tell them they are wrong. It leaves me an abundance of hope. Determination to fight, and to keep fighting for my future and for my health. It gives me faith, to keep advocating and spreading awareness to help others like myself. It gives me strength...this community gives me strength! And that is why I'm here to tell you, you are NOT alone in this fight! Together we are stronger; together we can spread awareness.
My Challenge to You
My challenge to you is to head over to the MSC Facebook Page and post a quote, video, or photo that speaks a thousand words to you. Post something that you want to speak for you, when sometimes words are hard to come by. For me, this photo speaks a thousand words about my journey with Mast Cell Disease. What's yours?
---
Disclaimer: Each story submitted to Mastocytosis Society Canada for this blog is published as-is with only minimal edits for spelling, grammar, and typographical mistakes. Each profile reflects the personal views, experiences and opinions of the individual authors and does not necessarily represent the views and/or endorsements of The Mastocytosis Society Canada, its leadership, boards, or communities. We can also not confirm any medical claims or comments in the story.